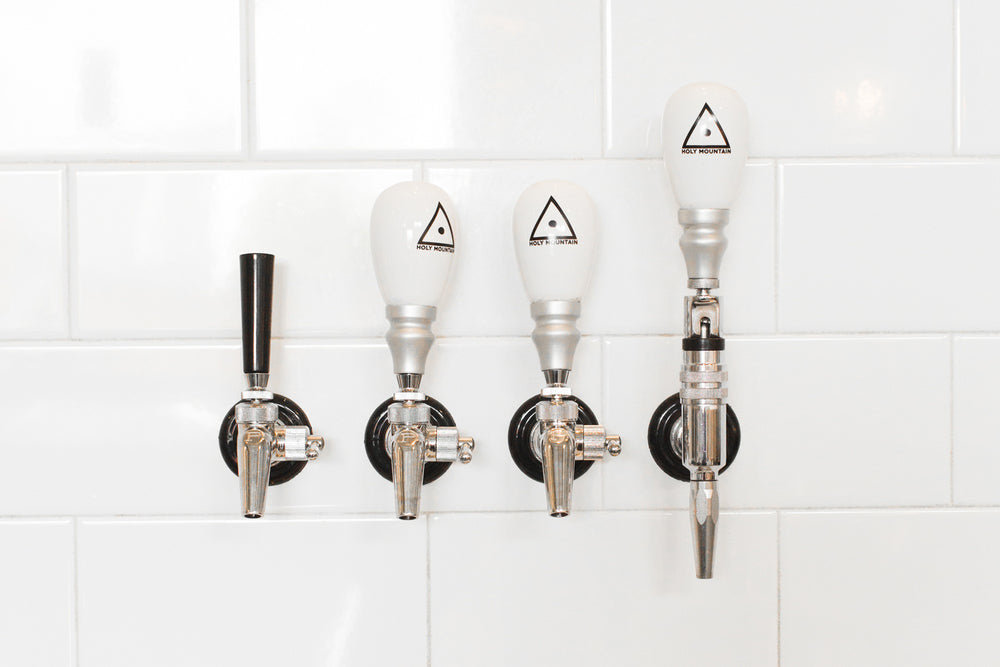 We recently teamed up with Holy Mountain Brewery to create two coffee-infused beers: the Shadowlifter Coffee Milk Stout and the Midnight Still, a Bourbon Barrel-Aged Imperial Stout. Made with our Nine Swans blend, the Midnight Still is a coffee and vanilla variant infused with Madagascar vanilla beans and coffee. The Shadowlifter is hopped with EKG and milk sugar is added to the kettle. After the beer fermented, Holy Mountain infused it with our Nine Swans blend to create a rich, malty stout.
We visited Holy Mountain a couple of months ago at their Southwest Queen Anne taproom and brewery. The taproom entrance is tucked away behind two doors separated by a long, narrow hallway. The brewery entrance, a little harder to miss, is a huge garage door.
A large concrete, warehouse style room houses the brewery's endless kettles, wooden barrels, and metal kegs marked with Holy Mountain stickers. Upon walking into the brewery we were greeted by the smell of grapefruit juice from the day prior's zesting for a grapefruit sour. As we walked a little further into the brewery the smell or barley and good times lingered in the air.
The taproom's "back door" - a sliding garage door - opens up on the west side of the brewery to the railroad. As you sit in the taproom you can hear the trains [loudly] go by. Natural light floods this space and creates a warm, yet minimal environment.
We really enjoy working with the folks at Holy Mountain, and you can find us hanging out at the brewery quite frequently as well. Check out their space and pick up one of their bottled beers at a variety of local vendors.