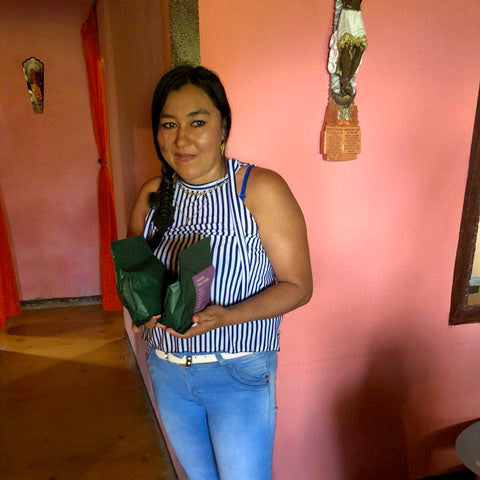 Last week, we released our newest coffee from Mireya Trujillo, a Colombian producer in we love and have been buying from for 3 years, making her coffees a well-established part of our lineup.  Mireya is specifically located in Huila, a well-regarded region for coffee production, due to it's high altitudes and excellent climate.  We work with Shared Source, our longtime importing partner, to purchase this and other extraordinary coffees.
This newest lot  is beautiful, thanks to Mireya and her spouse Jairo Nunez's (who's coffee we will also be releasing soon), incredible enthusiasm for coffee growing. Since we've been buying from them, they have both been continually improving their farms, and doing a lot of interesting, hands-on experimentation with growing and processing.
Jairo Nuñez with de-pulped coffee
 Even though Mireya and Jairo keep separate farms, they process their coffee at the same location.  All of their coffees are washed processed, meaning that the coffee fruit is removed from the beans by a de-pulping machine and then stored to ferment, to remove the remaining fruit. T
heir method is unique, instead of fermenting the coffee in an open cement tank, they store it in sealed plastic weave bags, reducing the exposure to air and all the microbes it contains, almost like anaerobic processing. This allows for a longer fermentation process and ensures a cleaner and more homogeneous tasting coffee.
Jairo with fermented organic compost "tea"
In addition to their processing, Mireya and Jairo have been doing incredible work introducing organic practices to their farms. They produce their own fermented biodynamic fertilizers, using an on-site organic lab, even making enough to sell to friends and family to use on their farms.
This kind of enthusiasm is part of why we love buying from small Colombian producers. In comparison to Ethiopian farmers, for example, who for the most part must sell their coffee through co-operatives that make it difficult to track small lots and source high quality coffee, Mireya and Jairo can sell directly to an exporter, who pays a higher price for the coffee and can offer essential quality feedback that helps them improve their production. Rather than being a opaque commodity exchange, the relationship resembles more of a conversation, that results in higher quality coffee for the consumer and improved quality of life for the producer.
That all being said, how is the coffee? Mireya Trujillo has a delightful, fresh tropical flavor, tasting like pineapple and vanilla, with the characteristic Colombian caramel sweetness underneath. It's an excellent coffee for the sunny spring weather we've been having in Seattle, lately, and a pleasure to brew at home in any method.