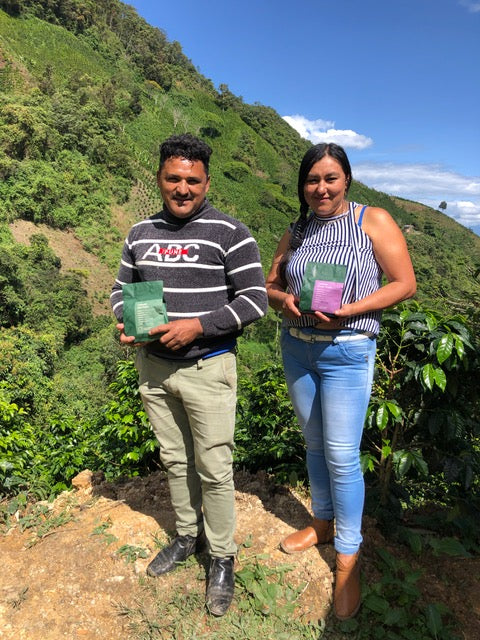 Our newest Colombian coffee is from Jairo Nuñez, who you may remember as spouse of Mireya Trujillo, our other favorite Colombian producer. They both maintain separate farms in the Huila region, the central area of coffee growing in Colombia, but work together to process their coffees.
You may remember from our previous post on Mireya Trujillo that the couple do some incredible work in processing their coffee, devising a unique method of fermentation in plastic weave bags that allows for a longer process, not unlike anaerobic processing. Longer fermentation gives more time for the promotion of lactic acid bacteria in the coffee, converting it from harsher acetic acids. What this means for you is that your cup will taste much sweeter and cleaner, which is of course highly desirable.
We think that stories like these is what makes Colombia so special as a coffee growing region. Huila is uniquely set up for coffee production, it has a favorable climate and geography, as well as a long growing season that provides us with fresh coffee for much of the year. All of these factors are a huge advantage, but mean little if people aren't able to grow great coffee.
Huila is full of small producers like Nuñez and Trujillo, operating farms in the single digits of hectares, who get their hands involved in every step of the process and work very hard on their crops. Experimentation and conversations continually improve the coffees, which are sought out by a strong network of exporters who pay higher prices, and as a result we have a region that provides us with an incredible diversity of coffees for much of the year.
Colombian coffees may not be the loud, fruit/floral bombs of Ethiopia that many coffee drinkers love, but within their more subtle flavor profiles, there is incredible variety to be had. Delightful citrus and tropical fruits, deeper berry and jammy flavors, always backed up by wonderful caramel and cocoa sweetness. These flavors do not hit you over the head, but reveal themselves slowly to the drinker, always rewarding further study. It is wonderful that we can always recommend our Colombian coffees to both less experienced coffee drinkers and the most serious origin seekers, there is something to love at every level.
Jairo Nuñez is of course no different. In his coffee this year, we find bright green apple and mandarin orange, with deep toffee flavors. This coffee will thrive in any brew method, either slowly savored as filter or as a lively start to your day as espresso.